BEAT THE CHALLENGE IN STYLE
The basics
Here are the easy steps you'll need to complete the Water Walk:
1. Register and pick a week in September to do the challenge.
2. As part of your registration, you will set up a fundraising page on everydayhero.com. This is where people can sponsor you. You'll also use it to track your challenge — you can find out how further down this page.
3. Set a fundraising target on your fundraising page. We recommend £100 as minimum, but aim as high as you can.
4. Let your friends and family know you are doing the challenge and share your fundraising page far and wide.
5. Get walking! You need to walk five miles a day every day for one week, starting on the Monday of the week you have picked. You can do this wherever and whenever you want each day. Just make sure to share your experience and your fundraising page as much as you can!
Remember to track your miles
You can link your fundraising page to your Fitbit, MapMyFitness or Strava app. It should make tracking your challenge much easier.
You'll also be able to share your routes and distances online, and show off your stats to any doubters!
Alternatively, you can input your miles manually on your fundraising page.
Check out our FAQs for all the info you need to set you your tracker or track manually.
For a tougher challenge, just add water
If you really want to challenge yourself then try carrying water with you every day (or whatever you fancy weighing yourself down with). It could bring you a little closer to the experiences of children around the world who have to do it every day to survive.
Many children have to carry 20 litre jerry cans, add 5-10 litres to your Water Walk to make it a real challenge. Plus you can share your burden online and make the challenge a bit more intriguing for your followers.
Before adding any water / weight, make sure you are fit, healthy and physically able to do the challenge.
Do the simple stuff that will get you through the week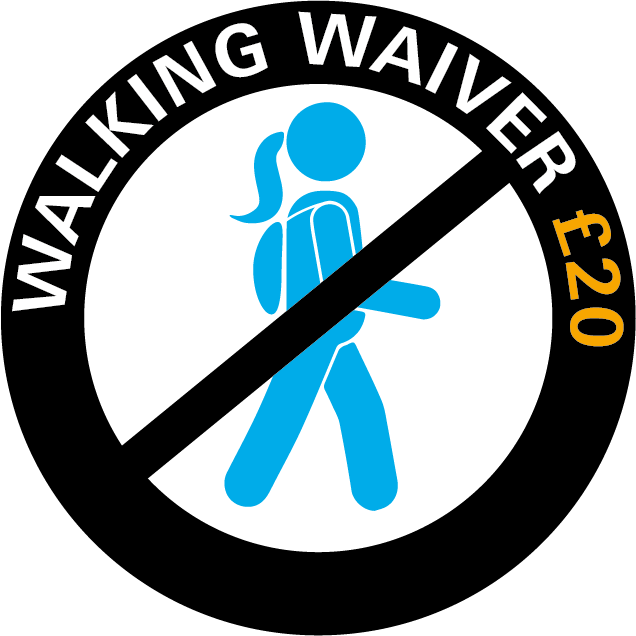 Walking five miles every day is going to be pretty tough. Here are some ideas to help you get through.
Try walking to work, getting off the train/bus a few stops early or going for a lunchtime stroll.
Give up public transport. Save money for yourself while you raise it for others.
Do the challenge as a team. Recruit some pals to do the challenge with you or try getting friends to join you on different days of the week.
Need a day off? Don't fret – the Walking Waiver is here to help. Donate £20 to your fundraising page and continue the day after.